For a full-grown adult, bone marrow donation can be a very painful and strenuous process. For a child it can be even more than that. However, knowing this didn't stop Michael Pownall, who is 4 years old, from wanting to donate his bone marrow to save his twin baby brothers' lives.

Santino and Giovanni were born prematurely at 33 weeks last October, after which they spent five long weeks in the NICU. They are now five months old.
The twins were hospitalized just 10 days after arriving home and the Pownalls received some devastating news. They both tested positive for Chronic Granulomatous Disease (CGD). This is a rare condition that affects the immune system. It is an immune disorder that increases the body's susceptibility to infections that are caused by certain fungi and bacteria.
CGD makes it difficult to fight off infections that most healthy immune systems can fight off with ease. Since this has been one of the most deadliest flu seasons we have seen in years, the twins' lives were in greater danger.
They may never get to live a healthy normal life without a bone marrow transplant.
Not only were the twins diagnosed with this rare disease, but their oldest son, Dominick, had also been diagnosed when he was younger. He is now considered cured thanks to the stem cell transplant he received at Children's Hospital of Philadelphia eight years ago. The Pownalls knew the same transplant was needed for their youngest sons as well.
Miraculously, their 4-year-old son, Michael, turned out to be a perfect bone-marrow match for his brothers.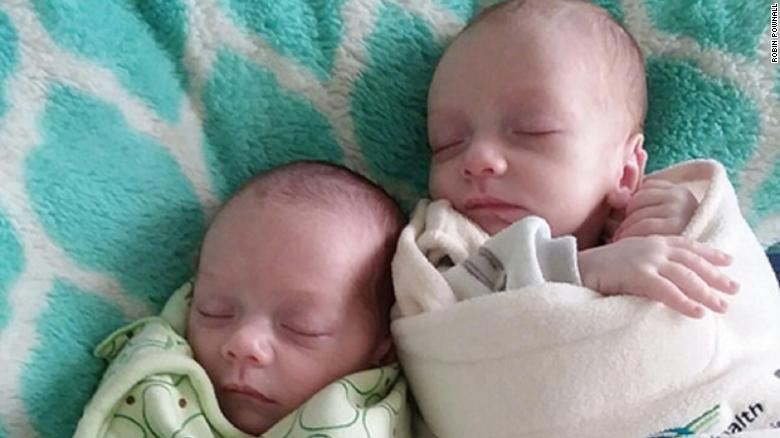 "We told Michael he was the match and asked him if he would help us save his brothers' lives," Robin told Love What Matters. "Michael said, 'I'm gonna give them with my bone marrow!' I explained the entire process with him, how it may hurt, and that he will be getting a pretty large needle. He said, 'Is it going to save them?' We said 'yes' and he said, 'Okay, I'll do it then!'"
"He was scared initially as anyone would be," said Robin. "But his courage is far more than one of a 4-year-old."
"We are currently inpatient at Children's Hospital of Philadelphia," she shared. "The twins are undergoing chemotherapy and will receive their transplant from their superhero brother Michael on March 8, 2018."
"We are transferred to TRANSPLANT and everything is going according to plan!" Robin wrote in a Facebook update this week. "I'm a nervous wreck! Please pray and keep us close to your hearts."
This proud mama couldn't be more impressed by Michael's strength and selflessness throughout this process:
"Michael is proud to be saving his twin brothers lives. He is so brave, he leaves his arm out for the nurse to draw his blood. He knows what he's about to do. It's truly inspirational. He gives me strength just watching how strong he is…
I am so scared and nervous for all three of my boys, but when I look into their eyes, I see strength. I know everything is going to be okay."
Please keep this family in your prayers.