Thanksgiving is a day commemorating the coming of the first pilgrims to US soil, and is celebrated every year to remind us to be thankful. We are to be thankful towards the people around us, as well as thankful towards God.
When it comes to the holiday of Thanksgiving, there are quite a few things to get excited about. The family gatherings, the celebrations, and most important of all, the lovely delicious food. The preparations for Thanksgiving dinner starts as early as a week before Thanksgiving. Traditional meals include turkey, cranberry sauce, potatoes, and a few other dishes. The eve of Thanksgiving is a busy one, what with all the cooking and baking that goes on. The house is flooded with the delicious aroma of the turkey cooking in the over, of pies, and of spices. Once the dining table is set with the food, it does not take much time for an entire family to feast and reduce the huge spread to nothing. Although Thanksgiving does have a traditional menu, surprisingly, the people living in different states of America have different preferences when it comes to Thanksgiving food.
According to the data collected by General Mills based on the most sought after recipes on Thanksgiving from popular food related websites such as BettyCrocker.com, Pillsbury.com and Tablespoon.com during the weeks leading up to Thanksgiving people from different regions of America have widely varying preferences in line with the area they are living in. Some of the most searched for dishes in Delaware, Georgia, South Carolina and North Carolina are sweet potato recipes while in California and Virginia, the most searched recipes are for nothing other than mac and cheese. Oddly enough, people from Arizona and Wisconsin seemed to be interested in shrimp recipes while chili is preferred by the residents of Michigan. When it came to Texas, chicken spaghetti was the most sought after recipe. The residents of Ohio, Pennsylvania and West Virginia seemed to be craving from some good game day food as the recipe that was most searched for was how to make buffalo chicken dip. Monkey bread and cheesecake were the winners when it came to Iowa and New York respectively.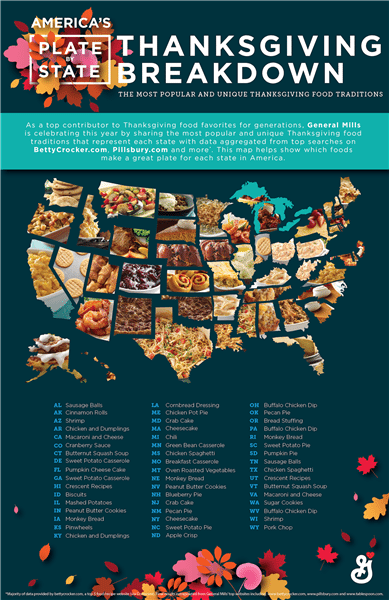 Here is a list of the most searched for recipes across the 50 states of America:
Alabama: Sausage rolls. Alaska: Cinnamon rolls. Arizona: Shrimp. Arkansas: Chicken and Dumplings. California: Macaroni and Cheese. Colorado: Cranberry sauce. Connecticut: Butternut squash soup. Delaware: Sweet potato casserole. Florida: Pumpkin cheesecake. Georgia: Sweet potato recipes. Hawaii: Crescent recipes. Idaho: Biscuits. Illinois: Mashed potatoes. Indiana: Peanut butter cookies. Iowa: Monkey bread. Kansas: Pinwheels. Kentucky: Chicken and dumplings. Louisiana: Cornbread dressing. Maine: Chicken pot pies. Maryland: Crab cake. Massachusetts: Cheesecake. Michigan: Chili. Minnesota: Green bean casserole. Mississippi: Chicken spaghetti. Missouri: Breakfast casserole. Montana: Oven roasted vegetables. Nebraska: Monkey bread. Nevada: Peanut butter cookies. New Hampshire: Blueberry pies. New Jersey: Crab cake. New Mexico: Pecan pies. New York: Cheesecake. North Carolina: Sweet potato pie. North Dakota: Apple crisp. Ohio: Buffalo chicken dip. Oklahoma: Pecan pie. Oregon: Bread stuffing. Pennsylvania: Buffalo chicken dip. Rhode Island: Monkey bread. South Carolina: Sweet potato pies. South Dakota: Pumpkin pie. Tennessee: Sausage balls. Texas: Chicken spaghetti. Utah: Crescent recipes. Vermont: Butternut squash soup. Virginia: Macaroni and cheese. Washington: Sugar cookies. West Virginia: Buffalo chicken dip. Wisconsin: Shrimp. Wyoming: Pork chop.
Share this story and let us know your favorite thanksgiving food!