Grandmas are God's special gifts to us. No one spoils us better than our warm-hearted grannies. Christmas and Thanksgiving are some of the holidays we get to spend with our grandparents and one thing is for sure. They will be cooking up a storm in the kitchen just so their grandchildren can eat to their heart's content. They always think about their grandkids and wish them happiness.
Here is a story of how a grandmother made Thanksgiving all the more special for her grandchildren.
Grandma Wins The Lottery
Vanessa Currence, who is from Gastonia, North Carolina, is a mother of nine children and grandmother to 27 grandchildren. It was definitely a happy moment when she won the $319,883 Cash 5 jackpot in the North Carolina Education Lottery. Talk about a big win!
Needless to say, Vanessa was excited and knew exactly how she was going to make use of this unexpected win of hers. When interviewed, Vanessa said that she was extremely grateful for this and said she knew exactly how she was going to spend the money as she picked up her check from the lottery headquarters in Raleigh.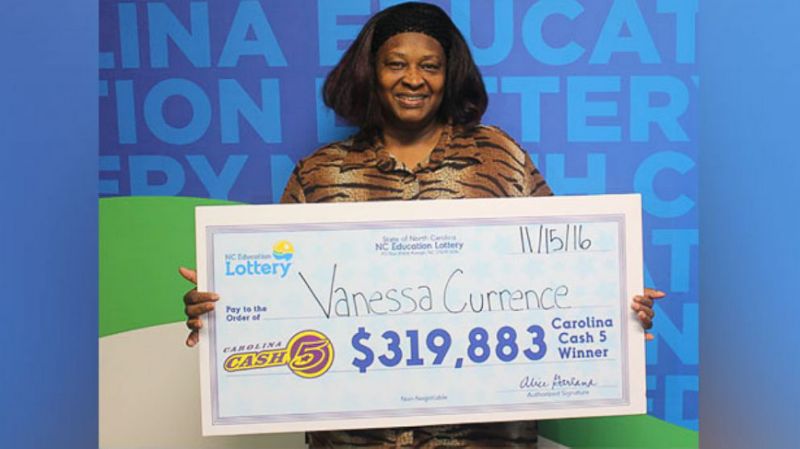 What She Planned To Do With The Money
Vanessa has nothing more in her mind than to give her huge family a treat they all truly deserve. She planned to use it to celebrate Thanksgiving in the best way possible with her children and grandchildren. Adorable. Right? She wanted to rent a holiday home somewhere nice and peaceful and spend the holiday with everyone together.
Winning The Lottery
The odds of Vanessa winning the lottery stood at 1 to a massive figure of 749,398. Vanessa had simply taken the ticket on a whim. The lottery ticket cost a mere $1. When choosing the lottery number, this kind-hearted grandmother used a combination of the birthdays of her family members, never actually expecting to win. Imagine her surprise when she heard that she won the draw. Even after deducting the mandatory state and federal taxes, Vanessa was left with $221,519.
At first, it was difficult for Vanessa to believe that she could have a chance at beating the odds and winning the lottery. So when her son told her to check the ticket, she did without expecting anything. But when she saw the numbers match up, she was jumping for joy. Well Vanessa's family sure had a wonderful holiday thanks to their sweet grandmother!
Grandma Texts Wrong Teen About Thanksgiving, Invites Him Anyway
Thanksgiving is a truly special holiday. Families gathering together, turkeys cooking in ovens, the sound of laughter and happiness. There is nothing to replace the joy of thanksgiving. Over the years, we have all come across a number of truly beautiful stories of thanksgiving. But, have you ever come across a hilarious thanksgiving story? Well, some of you may have, some of you may not have. Anyway, here's the story of how an accidental invitation received by a teenager turned into something quite memorable. This little tidbit has, in fact, gone viral on Twitter and has received over 180,000 retweets and nearly 300,000 likes.
How The Story Started
The story started on November 15, 2016, with 17-year-old Jamal Hinton getting pulled into a group text. The person texting extended a thanksgiving invite to Hinton. As expected, Hinton was quite confused and asked who was on the other side, to which the response was 'your grandma'! Needless to say, Hinton did not know what to think and assumed that maybe it was his actual grandmother. In order to confirm, he asked the person who was texting to send him a selfie. The other person seemed to a bit bewildered since she texted back asking whose selfie was it that Hinton wanted. He replied that he wanted her selfie. Within seconds he got a selfie of the woman on the other end and it definitely was not his grandma.
The Invitation To Thanksgiving
Hinton took a selfie of himself and sent it to the grandma on the other end and texted her that she was not his grandma. He got a little cheeky and asked if he could still get a plate at her Thanksgiving. He immediately got a reply saying that he was welcome to join them as that's what grandmas always do, feed everyone.
After this entire conversation, Hinton's friend took screenshots of this adorable conversation and posted it on Twitter. It went viral!. Plenty of people were gushing about this gesture and some people called her the MVP of grandmas. Needless to say, grandma become famous that Thanksgiving.
After the post went viral, Hinton said that the grandma ho invited him over for Thanksgiving was named Wanda and that he even went to meet her at her home. He described her as a very sweet, funny, and extremely nice lady. Hinton said that he will definitely be going over to her house on Thanksgiving day and will be coming back home with a pumpkin pie in his hand.
Such a small but heartwarming gesture by granny Wanda is exactly the kind we all need now and then. She invited a complete stranger to her house on Thanksgiving to share the joy of the occasion.  No wonder the post went viral.

Aren't grandma's amazing?! Share this story and remind others to be thankful for the grandparents God blesses us with!